The HrTech landscape has witnessed a thrilling expedition, and the accomplishments of June have left an indelible mark. Fuelled by a remarkable surge of capital inflow since the year's inception, this vibrant industry continues to mesmerize investors and spearhead groundbreaking advancements.
In June, fifteen remarkable startups recently secured an astounding $316 million in funding, propelling their growth and opening doors to unprecedented opportunities.
But this journey would be incomplete without acknowledging the visionary investors who recognize the boundless potential within this dynamic realm.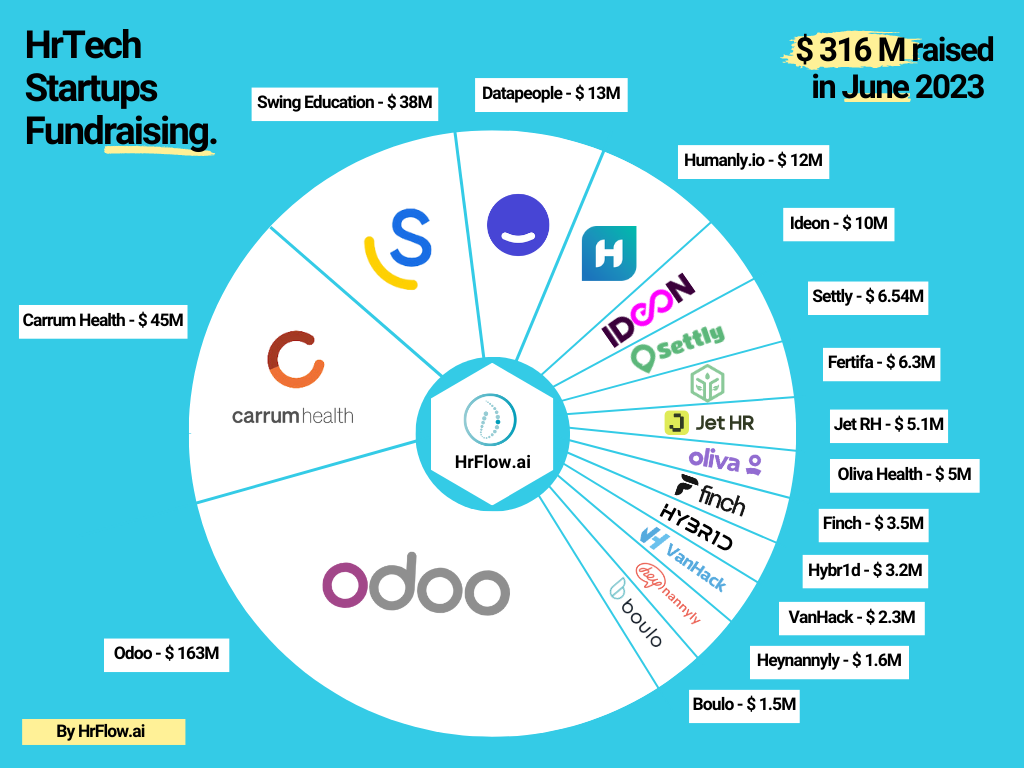 Odoo is a comprehensive suite of business management software that offers a wide range of applications to streamline and automate various business processes.
Funding Amount: $163M
Funding round: Private Equity
Lead Investors: General Atlantic
Carrum Health is a value-based center of a platform that negotiates directly with top healthcare providers to offer upfront bundled payments to employers.
Funding Amount: $45M
Funding round: Series B
Lead Investors: OMERS Growth Equity
Swing Education is a solution to transforming how K-12 schools and substitute teachers connect by providing them to fill hard-to-fill staff absences.
Funding Amount: $38M
Funding round: Series C
Lead Investors: Apax Partners, Reach Capital
It offers global hiring teams recruiting intelligence and control at every step of the hiring process – starting with their job descriptions.
Funding Amount: $13M
Funding round: Series A
Lead Investors: GreatPoint Ventures, New Markets Venture Partners
It's a conversational AI solution that bridges automated chat interactions and AI-powered virtual interview analytics for better hiring.
Funding Amount: $12M
Funding round: Series A
Lead Investors: Drive Capital
The solution develops a healthcare data platform for the employee benefits sector.
Funding Amount: $10M
Funding round: Venture
Lead Investors: -
‌A digital relocation expert that helps employees to grow by offering solutions in immigration, housing, and thus retaining talent.
Amount: $6.54M
Funding round: Seed
Lead Investors: 2050 and Mediahuis
The solution offers diagnosis and treatment, clinical advice, educational support, financing, and ongoing healthcare for employers across the UK, Europe, Asia, and the US.
Funding Amount: $6.3M
Funding round: Seed
Lead Investors: Notion Capital, Triple Point Ventures
Jet HR makes managing people incredibly simple: payroll, benefits, devices, compliance, and much more.
Funding Amount: $5.1M
Funding round: Seed
Lead Investors: EXOR N.V., Italian Founders Fund
Employee Mental Well-Being Platform makes mental healthcare a natural part of modern daily life by removing the fear and uncertainty from the clinical, complex process of seeking care.
Funding Amount: $5M
Funding round: Seed
Lead Investors: Molten Ventures
It's an API for Employment Systems. Gain access to 200+ HRIS, Payroll, and Benefits systems through a single API.
Funding Amount: $3.5M
Funding round: Undisclosed round
Lead Investors: Intuit
It's an end-to-end employee lifecycle management system that manages everything from onboarding, procurement, devices, payroll, leave, and attendance to employee offboarding
Funding Amount: $3.2M
Funding round: Pre-Seed
Lead Investors: -
A fast solution for companies to hire tech talent. Over 100,000 verified developers from 100+ countries.
Funding Amount: $2.3M
Funding round: Venture - Series Unknown
Lead Investors: Golden Section
Heynannyly is an all-in-one solution for a future-oriented employer brand. Childcare and eldercare to relieve the burden on employees.
Funding Amount: $1.6M
Funding round: Seed
Lead Investors: -
Boulo is the recruiting industry's go-to resource connecting results-driven employers with a diverse pool of talent – including women, mothers, and caregivers- looking for flexibility.
Funding Amount: $1.5M
Funding round: Seed
Lead Investors: Naples Technology Ventures
---
Here's a list of some lead investors in the HrTech sector 👇

🤔 Did we miss your HR Tech startup's fundraising? Let us know so we can include you in the article: contact@hrflow.ai
Are you interested in learning how HrFlow.ai can help you scale your business? get in touch with us
Read more: