What a year for the HR function and for the HrTech Industry !!

As the year comes to a close, it was time for me to:
reflect on the past year's developments in the #HrTech industry from various perspectives, including #vcfunding, #market trends, #buyer behavior, #product offerings, and #technology.
share the fantastic work that our teams at HrFlow.ai have been rolling out, including new products and partnership programs for 2023.

In this article, I draw upon the experiences of hundreds of HrTech teams I interviewed over the past six years, including our team at HrFlow.ai, to share valuable insights.

Whether you are an HrTech founder, an #HR professional, or an #investor interested in learning more about the inner workings of this industry, there is something here for you.

Happy new year!

#ai#hr#tatech#recruitment#cio#chro
Overview of this article
What makes HrTech difficult?
Why is now the best time for HrTech?
What is the HrTech engineering paradox?
Why build an AI-driven HrTech?
How does HrFlow.ai support AI-driven HrTech?
How to partner with HrFlow.ai?
- Level 1 - Data-led Growth (DLG)
- Level 2 - Connectivity-led Growth (CLG)
- Level 3 -  AI-led Growth (ALG)
What makes HrTech difficult?
Starting a successful HrTech company is challenging, as evidenced by the high failure rate in this industry. In my discussions with hundreds of HrTech founders and investors, I have identified four recurring patterns that explain why the odds are against you when launching an HrTech business. These include:
Lack of funding in the HR industry: With the Talent Acquisition & Management Software Market worth less than $10 billion (source: GlobeNewswire), the HR Industry is less attractive to investors than other industries. This deficit in investment can make it difficult for HrTech companies to secure the resources they need to grow.
Limited HrTech Budgets: Despite the critical role HR teams play in managing a company's most valuable asset – its talent and workforce – many companies still view HR as a cost center. This mindset can make it difficult for HrTech companies to sell their products and services. They must convince the top management that HR departments are essential business pillars, not just compliance necessities. This crucial step leads to a complex sales cycle for HrTech ventures, as they must work to secure buy-in and budget allocation from executives before selling to the end users.
HrTech-aversion: As digital transformation continues to shape most corporate functional departments, HR is often considered the least technologically advanced. HR departments may refrain from adopting new technologies, leading to a longer sales cycle and potentially lower adoption rates for HrTech products and services. This situation can be challenging for HrTech ventures, as they must overcome skepticism and objections from the HR teams.
Lack of engineering culture in HrTech companies: The HrTech industry is not a popular destination for top technical talent, unlike other sectors such as Finance. This challenge can make it difficult for HrTech companies to attract and retain skilled engineers, leading to a lack of engineering culture within the industry. Starting day one, HrTech founders must align three critical benefits for tech talent: high compensation, an ambitious technical purpose, and a clear product vision. HrTech founders can lay the groundwork for building a successful technical team by aligning these factors.
Why is now the best time for HrTech?
Despite all the challenges discussed in the previous section, the HrTech industry is thriving in 2022.

The spending on HrTech solutions is reaching an all-time high as workloads rapidly increase for HR departments due to the uncertain state of the economy (Covid-19, inflation) and the changing nature of the workforce (Hybrid work, Great Resignation). As a result, more companies are turning to HrTech solutions to support their HR teams and pay off their technical debt. As a result, the industry's current state presents a unique opportunity for HrTech companies to capitalize on the market demand to build successful businesses.
In terms of numbers, the HrTech industry has never been more robust:
Funding in the HR industry: Business investments in HrTech have increased by 57% since 2021, according to Forbes.
HrTech Budgets: According to TechTarget, HrTech budgets have increased by 9% in 2022, the fastest year-over-year growth in a decade.
HrTech-adoption: The role of HR IS (Information System) managers is growing, with these professionals now representing 7% of all HR staff, according to Gartner.
What is the HrTech engineering paradox?
Having a top-notch engineering team is essential for creating a high-quality product. However, rapidly expanding the engineering team can be detrimental to the company.
As time is the most valuable asset for HrTech ventures, many founders may be tempted to grow their teams quickly. However, it can be challenging to provide a large engineering team with the correct product roadmap due to the constantly changing nature of the HR industry. Consequently, the need to utilize expensive engineering talent can quickly result in the following:
Feature creep: when unnecessary features are added to the product, resulting in a cluttered and potentially confusing user experience. It can also lead to delays in product development and increased costs.
NIH syndrome" (Not invented here): this arises when the team tries to develop features outside their core business, leading to wasted resources and potential failures.
With the clock ticking, every wasted cycle of product development means:
For early-stage startups: fewer opportunities to pivot before running out of cash
For late-stage startups: missing chances for revenue growth
Since both time and funding are limited, founders must preserve engineering resources by being cautious and focused on their core business activities. These measures will help ensure their products remain competitive and relevant in the rapidly changing HR industry.
Why build an AI-driven HrTech?
The use of AI (Artificial Intelligence) is becoming "the norm" for the next generation of HrTech companies.
By leveraging ready-made AI tools, HrTech vendors can quickly develop more advanced and sophisticated products to help HR teams make more informed decisions and streamline HR processes. Those products support the entire life cycle of talent acquisition and management, including :
Talent sourcing: features for identifying and attracting top talent
Talent experience: job apps for improving the candidate and employee experience
Talent marketplace: platforms for connecting organizations with candidates or employees
Talent insights and analytics: dashboards for tracking and analyzing HR data
Talent nurturing: marketing automation for supporting candidate engagement
Talent up/new/re-skilling: content for training and career advancement
How does HrFlow.ai support AI-driven HrTech?
Our mission at HrFlow.ai is to "Solve Unemployment one API at a time.".
We share the same passion as other HrTech companies to have a significant social impact on Employment and Work. Our contribution to the HrTech industry is to help HrTech build AI-Driven Applications that unleash people's full potential.
We ease the burden on HrTech engineering teams so that they can focus on more critical core activities. Developers can rely on robust and straightforward AI modules to create AI-Powered experiences at the heart of their companies' software.
From the outset, we grounded our product vision on two solid foundations:
More AI: to Unlock the power of talent and workforce data.
More Connectors: to Unify and Automate talent and workforce data.
In 2017, we introduced the Parsing API, which quickly became the leading technology for structuring talent and workforce data across all media formats (documents, texts, images), with over 50+ data points and support for 32 languages (English, Chinese, Japanese, French, and more).
In 2019, we broke new ground in the field of profiles and jobs matching with the release of our Scoring API. This recommendation engine, built with self-learning AI, runs on billions of HR data points to provide accurate and personalized recommendations for candidates, employees, and recruiters.
To provide the most comprehensive suite of AI solutions for our HrTech partners, we launched several new products from 2018 to 2020, including:
The Tagging API: is a library of pre-built AI algorithms that automatically normalize and classify talent and workforce data, including job titles, skills, and more.
The Searching API: this is a fast neural search engine optimized for candidates, employees, and recruiters' search experience.
The Upskilling API: is an explainability (XAI) and compliance module that supplements the Scoring API to uncover and solve skills gaps.
In 2021, we introduced HrFlow.ai Connectors: an open-source library of HrTech connectors that makes HR data integration easier. We are thrilled to announce that we have reached the milestone of over 800 contributors to our project.
In response to the increasing demand from customers who want to build on top of our technology without a technical background, we are thrilled to announce two new product innovations for 2023:
The HrFlow.ai AI Studio:  will allow users to debias, train, A/B test, deploy, and monitor AI algorithms for talent and workforce data
The HrFlow.ai Automation Studio: will enable users to build and execute multistep no-code data processes on an immediate, triggered, or scheduled basis.
These new products will make our technology accessible to a broader range of users, including product managers, business analysts, project managers, and automation specialists.
How to partner with HrFlow.ai?
At HrFlow.ai, we are passionately committed to empowering HrTech ventures at all growth stages.
To fulfill this commitment, we are thrilled to announce three new partnership levels that focus on product, growth, and revenue expansion:
Level 1 - Data-led Growth (DLG): This level provides companies with the must-have AI modules to build the foundations of a Data-powered HrTech.
Level 2 - Connectivity-led Growth (CLG): This level allows companies to access our open-source library of HrTech connectors to accelerate PLG (Product-led growth).
Level 3 - AI-led Growth (ALG): This level enables companies to integrate our most advanced AI modules into their products and achieve the status of an AI-powered HrTech.
Level 1 - Data-led Growth (DLG)
We designed our first partnership level to support HrTech companies in extracting, structuring, cleaning, and normalizing Talent & Workforce Data. It includes products such as the Parsing API and Tagging API.
In response to the challenges posed by inflation to the HrTech Industry, we decided to reduce our pricing while competitors were raising theirs. This move is bold, but it is the right decision for our customers and our company's long-term success.
By lowering our pricing, we are excited to be able to support a broader range of businesses and offer new plans designed explicitly for HrTech SMBs:
The Essential Plan: our self-service pay-as-you-go model for HrTech companies. Check our pricing here.
The Free Plan: our Early Stage Access Program for small businesses, freelancers, NGOs, and students. Apply here.
Level 2 - Connectivity-led Growth (CLG)
Historically, HrTech SaaS has fallen into two main categories:
Systems of Engagement are generally upstream of the Talent and Workforce data acquisition process. They play a crucial role in engaging with candidates, employees, and recruiters. Examples of data collection interfaces include job boards, career sites, chatbots, and mobile apps.
Systems of Record, also known as "backup systems," are positioned downstream of the data acquisition process. Examples of these systems include CRM (Candidate Relationship Management), ERP (Enterprise Resource Planning) or resource management systems, HCM (Human Capital Management) software, and ATS (Applicant Tracking Systems). These systems are typically responsible for storing and managing Talent and Workforce data.
The rapid adoption of technology by HR teams in recent years has led to an explosion in the number of solutions used in a single organization. In the cloud market, this phenomenon is called "SaaS proliferation". Consequently, it has become imperative for large organizations to address the challenge of decentralized Talent & Workforce Data.
As more companies adopt HrTech solutions to support their HR teams, they are increasingly seeking solutions that offer better integration capabilities. This requirement is essential, as using multiple HrTech solutions can lead to data silos and difficulty accessing and utilizing critical information.
The growing demand for more integration from large organizations puts pressure on HrTech companies to constantly integrate with more tools. Maintaining connections and integrating various systems can be challenging for HrTech companies, but meeting their customers' expectations is necessary. On average, HrTech companies with annual recurring revenue (ARR) greater than $1 million have 24 connectors, and it can take up to two weeks to build a single integration. Furthermore, these integrations typically require two to three updates annually to ensure they continue functioning correctly.
In response to the Talent & Workforce data integration challenge, we built the HrFlow.ai Connectors library. Our open-source library allows partners to easily integrate their systems and manage data without needing extensive development resources. Our partners can rely on our open-source python SDK to:
Increase by 60% of development efficiency by reducing integration time
Reduce by 30% the risk of leads dropoff by being enterprise-ready
Reduce by 90% the maintenance costs by preventing code legacy and breaking changes
The HrFlow.ai Connectors library is licensed under the Apache License 2.0, making it free for commercial use. Developers can contribute to HrFlow.ai connectors by following our contribution Guide. Click here to join our community of 800 partners.
We also offer developers the opportunity to become certified partners. Becoming a certified partner is optional, but it gives your connector the maximum visibility within the HrFlow.ai Community. The certification requires the following:
Signing our CLG partnership agreement that ensures good faith and the safety of our community.
Completing the Hrflow.ai control tests to demonstrate that the connector is functioning as intended.
HrFlow.ai also has its internal integration team. If you have an idea for a new connector, you can submit it to our public roadmap for consideration. Our team will enroll connector ideas with the most votes in our development backlog.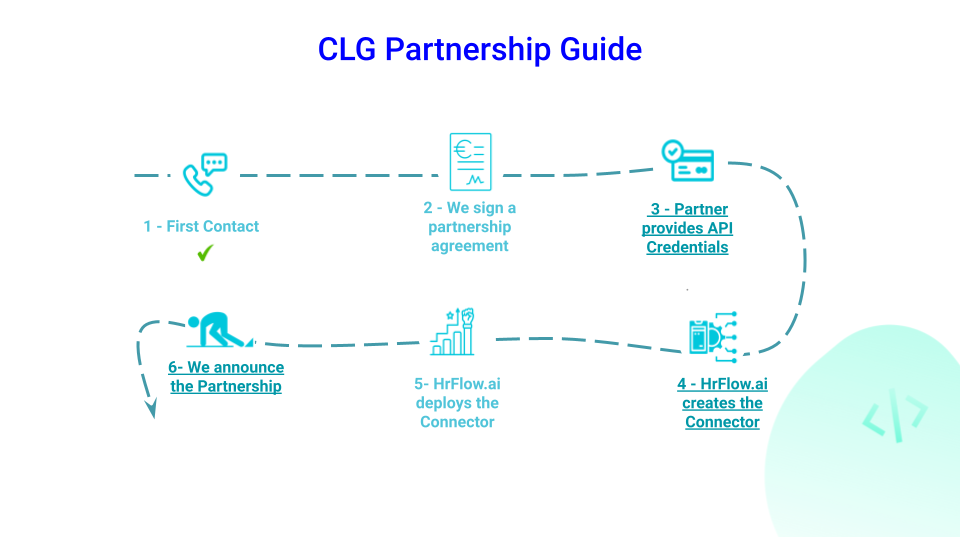 Level 3 -  AI-led Growth (ALG)
Data Quality (level 1) and Data Integration (level 2) are often seen in the HrTech community as the main obstacles to building AI-powered matching capabilities. In reality, they are only the tip of the iceberg. Several misconceptions can lead people to believe that applying artificial intelligence to match profiles and jobs is a simple task:
«We can simply use keywords to match profiles and job description.» - Product manager.
A popular approach combines Elasticsearch, a parser, and a list of synonyms from a skills repository. However, this method fails to consider the complex nature of human language and the diverse nuances within the workforce categories:
- For Blue-collars, factors such as Tasks performed (for example, organizing a store shelf) and Certifications obtained (for example, a French CACES R489) are the most important to consider.
- For Senior White-collars, Achievements (for example, increased sales by 140%) and past Companies are the key indicators.
- For Junior White-collars,  Skills acquired or Schools attended may be relevant factors to consider.
«We can fork open-source algorithms from GitHub.» - Software Engineer.
Deploying pre-trained algorithms may seem an excellent shortcut to save engineering time and resources. However, using an algorithm designed for a different task and data at hand may result in poor performance and inaccurate results.
«We can scrape LinkedIn or train our algorithm on Wikipedia.» - Data Scientist.
Generally, training an algorithm on unchecked online data collection may reflect and reproduce unwanted inequities or embed new harmful biases and discrimination. Training on LinkedIn data violates their terms and conditions and undermines their users' data privacy (missing explicit consent).
«We have a lot of internal data to feed the AI.» - HR Teams.
Relying solely on internal data for re-training can lead to overfitting and poor generalization, resulting in unfair or biased treatment of individuals who fall outside the distribution of the original samples.
Overall, there are many complex challenges that HrTech companies must overcome to create successful AI algorithms for human data that go beyond data quality and data integration.
We spoke to hundreds of CTOs & CPOs who attempted to build in-house matching capabilities and identified six patterns that often lead to system failure:
Accuracy: High number of false positives and overlooked opportunities
Speed: Slow results for large talent pools and high-traffic job sites
Data: Complex data structure and restrictive search & ranking capabilities
Ultra-personalization: tailoring algorithms for each user type (candidate, employee, recruiter), company recruitment process, and specific data structures of each organization.
Cost & time: Out-of-hand total cost of operations, professional services, and R&D roadmap.
Black box effect: Poor algorithms' explainability, training data biases, and lack of ROI.
At HrFlow.ai, we have spent seven years and millions of dollars building and refining our profile-matching & job-matching APIs. Our world-class engineering team designed these AI modules to be accurate, fair, compliant, secure, scalable, and ultrafast. Today we are very proud to be the global leader in this category.
We are excited to offer our partners the opportunity to leverage our technology to build AI-powered matching and recommendation experiences for their products through our AI-led Growth (ALG) partnership. This partnership includes access to our Searching API, Scoring API, and Upskilling API, all designed to follow the October 2022 USA AI bill of rights principles and help companies diversify their workforce, identify hidden talents, and recommend overlooked opportunities.
As an ALG partner, you have two options for integrating our technology into your product:
Install our open-source widgets with built-in AI in just a few minutes. These widgets are entirely customizable. They include:
- Open Job Board is a Netflix-like experience for job shoppers — this plugin helps to convert 2x more job shoppers and to connect them with 5x more relevant job opportunities.
- Open Talent Marketplace is a CRM-like experience for recruiters and managers — this plugin helps to identify 3x more relevant talents and to fill open positions 43% faster.
Build advanced apps quickly with our easy-to-exploit APIs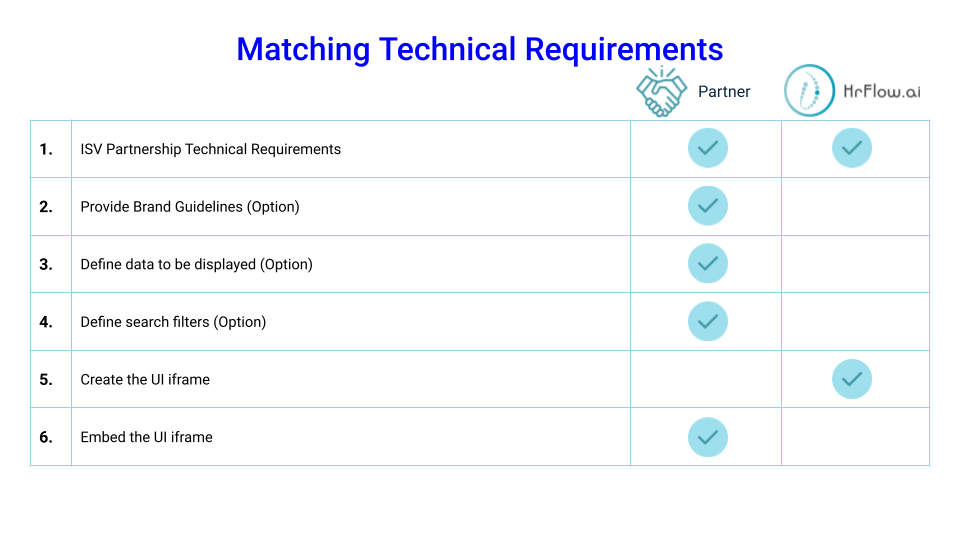 To become an ALG partner, you must first be certified. The certification process consists of the following steps:
Being already a certified CLG partner
Signing the ALG partnership agreement, which outlines the terms and conditions for licensing, co-selling, re-selling, and co-marketing the technology.
Completing the Hrflow.ai control tests to demonstrate that the connector is functioning as intended.