June brings a multitude of exceptional HrTech events and conferences taking place worldwide. These dynamic gatherings serve as pivotal platforms, uniting HR professionals, thought leaders, and technology experts with a shared objective: to foster an exchange of ideas and insights regarding cutting-edge trends and innovations in the field.
These events provide HR professionals and businesses with a chance to remain at the forefront of the ever-evolving landscape, acquiring invaluable knowledge to optimize their HR processes and achieve their goals.
In this article, we're featuring the most significant HrTech events in June that we believe are truly worth your focus and participation:
SHRM Annual Conference & Expo 2023
Viva Technology
Future Of Work - USA
HR + L&D Innovation & Tech Festival
Future of HR
Total Rewards'23
HR Summit & Expo - KSA
TALENTpro Expofestival
---
SHRM Annual Conference & Expo 2023
SHRM23 gathers HR professionals from around the world. It provides a unique platform for peer-to-peer networking, thought-provoking speeches by renowned business and HR leaders, competency-based HR seminars, engaging hands-on workshops, and curated content addressing critical HR concerns.
The event guarantees invaluable insights and strategies to foster HR excellence in today's dynamic and evolving landscape.

Keynote Speakers :
STARLA SAMPACO, Emmy-Nominated Journalist & Founder of Career Survival Guide
ZIG SERAFIN Chief Executive Officer, Qualtrics PRESIDENT
BILL CLINTON 42nd President of the United States
MITCH ALBOM Author, Columnist, & Radio Host
JOHNNY C. TAYLOR, JR., SHRM-SCP President & Chief Executive Officer, SHRM
---
Viva Technology
VivaTech is an annual event dedicated to technological innovation and startups. It is among the top events in Europe and is globally recognized as a powerful catalyst for business transformation, startup growth, and innovation for the common good. It unites leaders, startups, investors, researchers, and thought leaders worldwide, offering a unique experience of inspiration, networking, and innovation showcase.

Keynote Speakers :
Peggy Johnson Magic Leap, Inc. - CEO
Nicolas Julia Sorare - Co-Founder & CEO
Dr. Werner Vogels Amazon - CTO
Eva Gouwens Fairphone - CEO
Herman Narula Improbable - CEO
Amélie Oudéa-Castéra Minister of Sports and Olympic and Paralympic Games
---
Future of Work - USA
Since its inception in 2019, the Future of Work USA Event has been dedicated to exploring the forefront of the ever-evolving work landscape. With a specific focus on the vital role of HR and People function, the event delves into cutting-edge topics such as Talent Management, Workforce Planning, Frontline Workers, Workplace Transformation, HR Technology, Culture, DEI, Employee Engagement, and more.

Keynote speakers:
Jeana Munoz, Chief People Officer, HAVAS MEDIA NORTH AMERICA
Eliza Wicher, VP, Talent & Organizational Development, COLLECTORS
Da'Mon Wardlow, Vice President of People and Culture, TOMS KING
Traci McMurray, Senior Vice President, Talent Acquisition + Internal Mobility, FLEISHMANHILLARD
Anahita Cameron, Chief People Officer, THRIVE PET HEALTHCARE
Mark Smith, Executive Director, Talent Acquisition & Talent Integration, KRAFT HEINZ COMPANY
Changsu Lee, Founder and CEO, ALLGANIZE.AI
---
HR + L&D Innovation & Tech Festival
HR + L&D Innovation & Tech Fest is a two-day immersive experience packed with learning, networking, and engaging discussions. Delve into a diverse range of topics, including the integration of new technologies, meeting employee management expectations, cultivating versatile skill sets, and ensuring adaptability to retain top talent. This event is a gateway to staying ahead in the ever-evolving world of HR and L&D.

Keynote Speakers :
Nadine Champion, Keynote Speaker, Author & High-Performance Mindset Coach
Gilbert Enoka, Manager | Leadership, All Blacks
Dan Te Whenua Walker, Global Co-Chair of Indigenous, Microsoft
David Wright, Head of Account Management | Australia & New Zealand, Cornerstone
James Della-Porta, Director Enterprise Sales APAC, Udemy Business
Ursula Oxnam, Asia Pacific ESG Upskilling, Director, PwC
John Peachey, CEO & Chief People Mechanic, The Think Farm
---
Future of HR
For the past 7 years, Future of HR has been innovating to offer its attendees a moment filled with sharing, discoveries, and networking. This time, the event will revolve around a sports theme, highlighting the common values shared by human resources: teamwork, resilience, performance, well-being, and more. These current topics will be addressed through peer exchanges and impactful presentations.

Keynote speakers:
Catherine Touvrey, General Director - HARMONIE MUTUELLE
Alexandre Viros, President (France) - THE ADECCO GROUP
Christophe Bichet, Sports Speaker
Philippe Burger, Associate in charge of Human Capital - DELOITTE
---
Total Rewards'23
Total Rewards'23 is one of the greatest learning experiences for professionals where they gather to gain valuable insights. With captivating speakers and thought-provoking programs, this event offers actionable and measurable solutions in a dynamic and enjoyable setting. The event provides ample opportunities to connect with peers and contribute to transforming how talent is rewarded within organizations.

Keynote Speakers :
Fernanda Abilel Co-Founder, How2Pay
Mona Abu Shaban Director, Global Total Rewards, Right To Play International
Carly Ackerman Director, Customer Experience, eightfold.ai
Terry Adamson Partner, Infinite Equity
Haithem Al-Balawi CHRO, Johns Hopkins Aramco Healthcare
Mario Ceron CCP, CECP, GRP Managing Partner & CEO Zereon Associates GmbH
---
HR Summit & Expo - KSA
The HRSE HR Summit and Expo KSA is the biggest HR and people management event in the region, attracting over 4,000 professionals and featuring more than 50 solutions and service providers. The conference focuses on addressing pressing challenges in the field and exploring the latest trends through a thoughtfully curated agenda that includes real-life examples and practical case studies.

Location: Crowne Plaza Riyadh, RDC, Riyadh, Saudi Arabia
Date and time: Exclusive Masterclass' by Dave Ulrich: 18 June 2023 - Conference: 19 – 20 June 2023 - Workshops: 21 & 22 June 2023
Official website: https://informaconnect.com/hrse-saudi/
Keynote Speakers :
Dave ULRICH Rensis Likert Professor at Ross School of Business - University of Michigan
Peter Hartmann, Director, HR Analytics and HR BI, Getinge
ZAINAB HAMIDADDIN Senior Director - Employee Engagement & HRBP at Red Sea Global
Hesham Ismail CHRO - Makkah Healthcare ClusterMinistry of Health, Saudi Arabia I MISK 2030 Leader
Bandar Al-Safeer CHRO / Board Member / NRC MemberMinistry of Tourism of Saudi Arabia
Abdulaziz AlTamimi Human Resources Executive Director Ministry of Investment, KSA
MONA AL-HUSSAINI Head of Human Resources at Siemens Energy
---
TALENTpro Expofestival
TALENTpro Expofestival in Munich is a vibrant event that showcases talent and HR trends, bringing together professionals, thought leaders, and solution providers for networking and knowledge exchange. With a focus on innovation, TALENTpro explores the latest strategies and technologies in talent acquisition and management. Additionally, it creates a relaxed atmosphere with features like an after-show party, live music, early morning yoga, food truck, and more.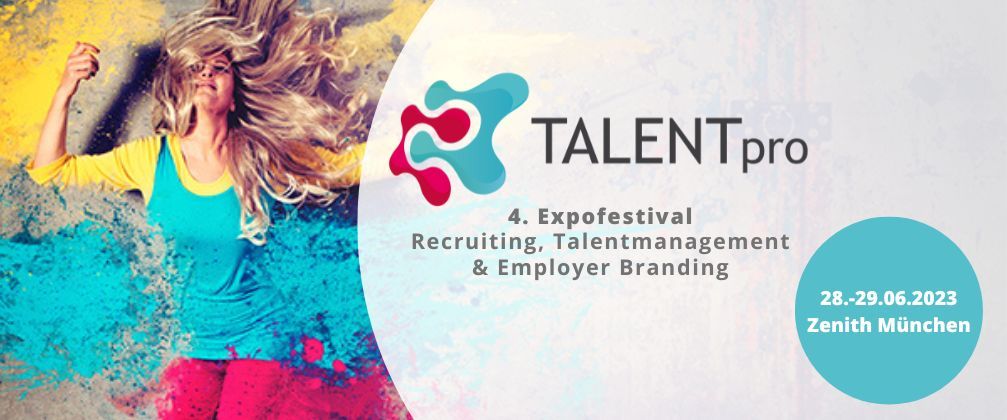 Keynote Speakers :
Marius Luther, CEO & Founder - HeyJobs GmbH
Jonas Krömer, Founder and Customer Success - skillconomy GmbH
Bastian Stolz, Recruiter - Lechwerke AG
Lukas Sommer ,Sales Manager - JobCloud HR Tech GmbH
Nina Frühling, Talent Acquisition & Employer Branding - Deutsche Bahn
Jörn Klick, Senior Account Manager - trendence Institut GmbH
---
🤔 Are we missing an important event? let us know here: contact@hrflow.ai
If you want to connect with the HrFlow.ai team during these events and others, you can get in touch with us here: https://hrflow.ai/book-us/
Read more: