August brings an exciting lineup of can't-miss HR technology events and conferences happening around the world. These lively gatherings connect HR professionals, thought leaders, and tech experts who share a common goal: to exchange ideas and insights on emerging trends and innovations shaping the future of HR.
Attending these events allows HR practitioners and businesses to stay ahead of the curve in a rapidly changing field, armed with actionable knowledge to transform HR processes and achieve organizational goals.
Notable August 2023 HR Technology Events:
HR Florida Conference & Expo
Talent Acquisition and Retention Strategies for Biopharma
Use Tech & Data to Enhance the Employee Experience
---
HR Florida Conference & Expo
The HR Florida Conference & Expo, hosted by the HR Florida State Council, is a leading annual event for HR professionals in the southeastern United States. With over 1,500 attendees from various industries and locations, it offers excellent networking, growth, and learning opportunities in HR. Additionally, participants can earn maximum credits for HR Certification Institute and SHRM Competencies Certifications.

Keynote speakers:
Cara Brookins: Known as the mom who built a house using YouTube Videos, Cara Brookins is a software architect turned keynote speaker.
Ryan Leak: a best-selling author, transformational speaker, executive coach, and Author of Chasing Failure.
Robyn Benincasa: World champion adventure racer, 2014 CNN Hero, full-time firefighter, New York Times best-selling author, 3x Guinness World Record Endurance Kayaker
---
Talent Acquisition and Retention Strategies for Biopharma
The industry's rapid growth and lack of experienced professionals require companies to reassess their recruitment and retention strategies. Addressing this issue is crucial for operational sustainability and profitability, even surpassing technology concerns.
This event offers a unique opportunity to gain insights and advice from leading biopharma talent executives who are generously sharing their experiences to overcome common talent challenges and drive success. It's an exclusive gathering for talent and HR decision-makers, providing a peer-to-peer fireside chat and networking session.

Location: Boston, MA.
Date and time: Monday, August 14, 2023, 2:00 - 6:30 PM
Keynote speakers:
Andrew Mears, Chief Executive Officer, Lead Candidate
Tony Martignetti, Founder/Chief Inspiration Officer, Inspired Purpose Coaching
Mark Donnelly, Director, Head of Talent Acquisition and Executive Recruiting, Kinnate Biopharma
Tom Love, Senior Director, Talent Acquisition and P&C Programs, Kymera Therapeutics
Stacey Veysey, Talent Acquisition Leader, Vertex Pharmaceuticals Inc
Brian J Caine, Co-Founder, Evaluating Biopharma
Mara Strandlund, Chief People Officer, Natl Resilience Inc
Niamh Alix, Chief Human Resources Officer, Prime Medicine Inc
Jill Mullens, Director of Human Resources, Genezen
Brian J Caine, Co-Founder, Evaluating Biopharma
Grace Tkach, Vice President, People and Talent, Celsius Therapeutics
Jay Blackington, Vice President, People and Culture, Lykan Biosciences
Sarah O'Reilly, Senior Director, Human Resources, Andelyn Biosciences
---
Use Tech & Data to Enhance the Employee Experience
Talent retention remains a crucial and urgent concern, demanding effective strategies to enhance the employee experience. At this event, attendees will explore the power of data and analytics in influencing the employee experience by providing informed decision-making information, leading to genuine workforce satisfaction. The conference will delve into utilizing pulse surveys and other data-gathering methods to measure engagement and discover the technology and platforms that support a positive employee experience.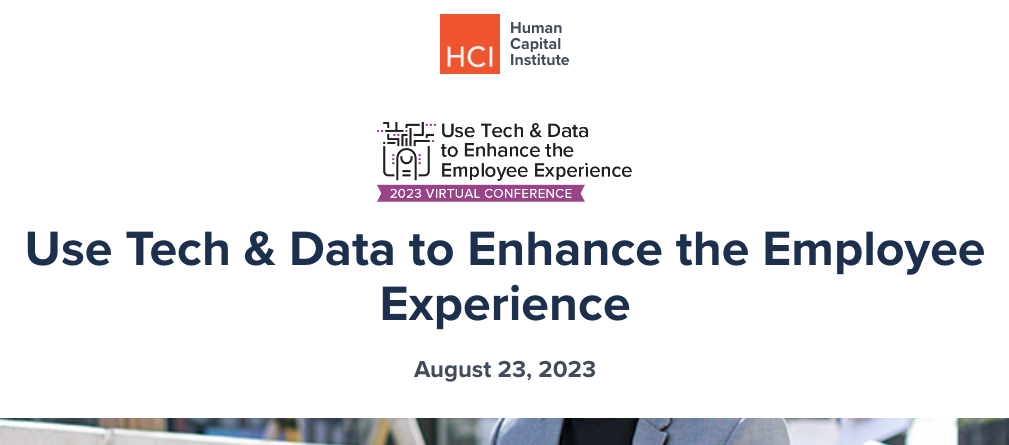 Location: Virtual
Date and time: August 23, 2023
Keynote speakers:
Barbara Trautlein, Author, "Change Intelligence: Use the power of CQ® to Lead Change that Sticks of Change Catalysts, LLC
Amanda Hume, Vice President, Experience & Gatherings of DaVita
Don Robertson, Executive Vice President and Chief Human Resources Officer of Northwestern Mutual
Tamara Jakes, Director of Employee Experience of Aflac
Tate Hackert, Co-Founder and President of ZayZoon
---
🤔 Are we missing an important event? Let us know here: contact@hrflow.ai
If you want to connect with the HrFlow.ai team during these events and others, you can get in touch with us here: https://hrflow.ai/book-us/
Read more :