November heralds the arrival of prominent HrTech events and conferences across the globe. These gatherings serve as a convergence point for HR professionals, thought leaders, and tech experts who share a common objective: to facilitate the exchange of ideas, insights, and best practices that will sculpt the future of HR Technology.
These November events are a golden ticket for HR professionals and organizations looking to stay ahead in this swiftly changing landscape. Attendees stand to gain invaluable knowledge about emerging trends and cutting-edge technologies that can revolutionize HR operations and drive organizational triumph.
Here's a selection of significant HR events scheduled for November 2023:
Rethink HR Tech EU
Future Of Work Europe
HR Leaders Conference Dubai
ETHRWorld Human Capital Experience Summit
Human Resources Solutions / eLearning Expo
---
Rethink HR Tech EU
Rethink is a premier HR Tech event in Europe, uniting over 200 CHROs and senior HR decision-makers. Attendees converge to discuss HR Technologies, New Work, Recruitment, and a myriad of other topics. They explore the latest technological trends, while also delving into opportunities and risks, all supplemented with real-world practical examples tailored for HR professionals.

Keynote speakers:
Peter SOMOGYVARY: HR Technology Director Europe at Ford
Tina PEETERS: Global People Analytics Lead, DSM
Valeriano AMARI: VP HR & Org Central East Europe
Galya ROFEH: Head of Talent & People Development, World Economic Forum
Raul PEREZ: Global Head Early Career Strategy, Novartis
Martin BARNER: Head People & Organization Operations…
Sylwia GORSKA: Head of People & Culture IKEA Austria
Donatella DE VITA: Global Head of Welfare, Engagement and DE&I for HR, Pirelli
---
Future Of Work Europe
The Future of Work Europe event is primarily tailored for senior executives and HR professionals. Its central objective is to investigate and tackle the latest trends and strategies in the ever-evolving Future of Work domain. This encompasses a wide range of areas, including Frontline Workers, Workplace Transformation, HR Technology, Culture, Employee Engagement, Digital Workplace, Learning & Development, Human Resources, and Office Space & Design.

Keynote speakers:
Farnaz Ranjbar, Group Chief People Officer, COATS
Jennifer Rademake, Chief Future of Work Officer, MASTERCARD
Louise Benford, Chief People Officer, AA
Katie Shaw, Head of People Partnering Store Ops & Property, MARKS AND SPENCER
Douglas Tilston, Head of People Analytics, RECKITT
Natasha Whitehurst, Global Inclusion Lead, ROLLS-ROYCE
Milet Lukey, Vice President People & Culture, DORCHESTER COLLECTION
Lee Irving, Head of employee communications and engagement, THAMES WATER
---
HR Leaders Conference Dubai
The HR Leaders Conference produces unique conferences that foster discussions between HR leaders and industry executives. These events provide HR professionals with learning opportunities and partners a platform for thought leadership. Topics include Employee Engagement, Talent Management, HR Technology, Training, Employee Benefits, and HR & Payroll.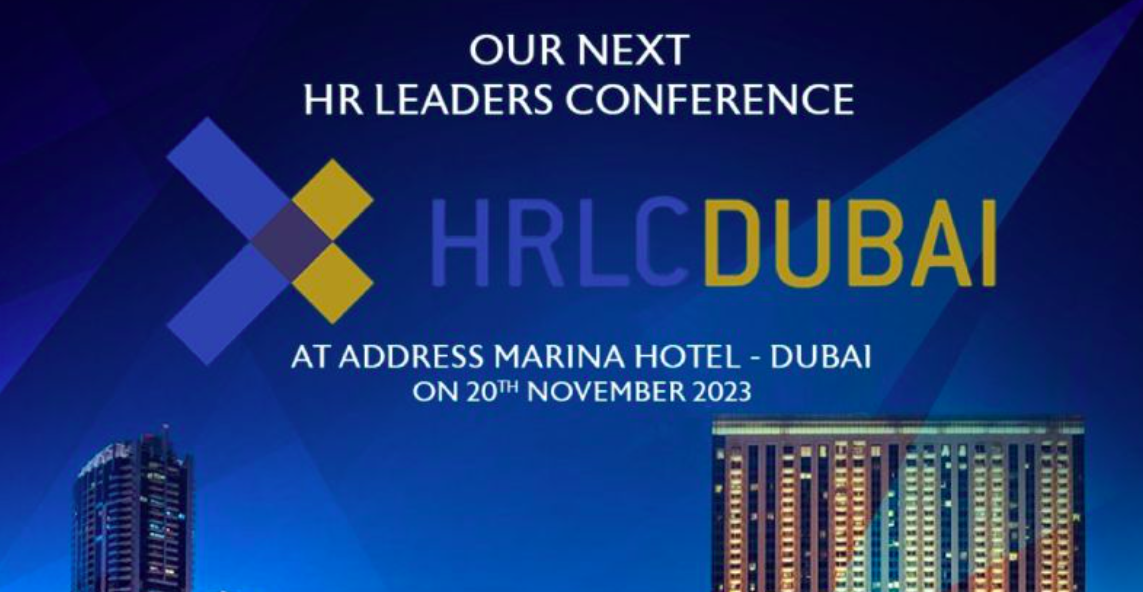 Keynote speakers:
Adam Ashcroft: The Advantage Coach
John Kallelil, CEO, XED
Roujin Ghamsari: Founder & CEO, Mappd HR
Dr Ebrahim Khajeh: Abu Dhabi Customs
Manish Mohan Misra: Group Head – HR Transformation Digital & Analytics, Enoc
Karen Beggs: Chief Human Resources Officer, The Entertainer
---
ETHRWorld Human Capital Experience Summit
The 4th edition of the ETHRWorld Human Capital Experience Summit is centered around the theme "AI-Revolutionized EX," which extensively explores the profound impact of AI on the workforce. It offers an insightful examination of cutting-edge technologies reshaping how employees interact with their work and each other. This event aims to redefine the traditional employee experience by showcasing how AI-driven tools and solutions redefine workplace interactions, learning, growth, and more.

Keynote speakers:
Nathan SV, Partner, Deloitte India
Shailly Bhanot, Director HR, Intel Corporation
Krishna Raghavan, CPO, Flipkart
Pratibha Priyadarshini, VP and Head of HR, Shell Group of Companies (India)
Pawan Bhageria, President-Global HR, IT, Admin & Education, Tata Technologies
Manisha Agarwal, Director-People & Organisation, India & Thailand, Puma
Varadharaj V, SVP & Head-Talent Acquisition, Infosys
Divya Srivastava, CHRO, GE Healthcare, South Asia
---
Human Resources Solutions / eLearning Expo
Since 2012, the Auvergne Rhône-Alpes edition of Solutions Ressources Humaines and eLearning Expo has been the premier event in Southeast France and French-speaking Switzerland.
In just 1.5 days, this 11th edition will showcase the latest HR trends and connect 1,500 professionals with 80 exhibiting companies. Key topics include HRIS, talent management, training, QWL, and Edtech.

Location: Cité Centre des Congrès, Lyon, France.
Date and time: 20 - 21 November 2023
Official website: https://www.salon-srh.com/
Keynote speakers:
Catherine GLEE-VERMANDE : Director of the Executive Master in Human Resources Management and Organization, IAE Lyon School of Management - Jean Moulin Lyon 3 University
Gregor BOUVILLE : Professor of Universities, IAE Lyon School of Management - Jean Moulin Lyon 3 University
Aude FERRARY : Social Law Lawyer at Touche Pas A La Paie
Pierre RADLOVIC : Educational Traceability Expert, Founder, GOCREATE SOLUTIONS
Fabrice ROUSSEAU : Director, TEMIS Conseil
Kevin DARDE : Specialized Trainer
---
Read more :