In today's world, technology is an integral part of every industry. It's crucial for businesses to stay current with the latest advancements to stay competitive, and human resources is no exception. HR professionals need to keep pace with the rapidly evolving HrTech industry to stay ahead in the game.
Every month, numerous HrTech events take place worldwide, showcasing the latest advancements and innovations in the industry.
This month, some of the most important HR events are taking place, including UNLEASH America, SHRM Talent, CHRO Summit, HR Tomorrow, and Oracle CloudWorld Tour.
---
UNLEASH America Conference & Expo
UNLEASH America Conference & Expo is globally recognized as one of the best HR marketplaces. Over the past ten years, UNLEASH has provided a platform for startups, scale-ups, breakthroughs, and HR technologies worldwide to showcase the latest innovations.
This year, the UNLEASH America event is dedicated to the future of work and workforce technology. It aims to help businesses leverage the latest tools and solutions in HR and workforce management to attract top talent, drive innovation, and thought leadership in the industry.

Keynote Speakers :
Erin Meyer, New York Times Bestselling author, a leader, and a professor at INSEAD.
Dr. Vivienne Ming, Founder & Executive Chair, Socos Labs
Kerry Olin, Corporate VP HR Services, Microsoft
Josh Bersin, Founder & CEO, The Josh Bersin Company
Naveen Bhateja, EVP and Chief People Officer, Medidata Solutions
---
The SHRM Talent Conference & Expo
The SHRM Talent Conference & Expo is an annual event that unites HR experts, managers, directors, Recruiters, HR Specialists, CEOs, and more.
The conference covers various topics, including new recruitment and talent selection tools, the latest recruiting trends, and talent management tips.

Keynote Speakers :
Amy Gallo: Bestselling Author, Media Personality & Keynote Speaker on Workplace Dynamics
Kudzi Chikumbu: Global Head of Creator Marketing, TikTok
Angela Kinsey: Award-winning Actress, Best-selling Author
---
The Conference Board 2023 CHRO Summit: The Path Forward
The Conference Board 2023 CHRO Summit returns with its unique 'no presentations, all conversations' format to bring CHROs together to discuss the issues that matter most to them and for HR leaders everywhere to have conversations on important HR topics such as the reinvention of work, data analytics, and HR transformation.

Keynote Speakers :
Samantha Hammock - EVP, Chief Human Resources Officer at Verizon Communications Inc.
Dionne Wallace Oakley - SVP, CHRO at Freddie Mac
Donna Morris - Executive Vice President, Chief People Officer at Walmart
Holly May - EVP, Global Chief Human Resources Officer at Walgreens Boots Alliance, Inc.
Michael Fraccaro, Chief People Officer at Mastercard
Sheri B. Bronstein- Chief Human Resources Officer at Bank of America
---
2023 HR Tomorrow Conference
The 2023 HR Tomorrow conference focuses on strategic HR leadership and equipping professionals with insights to shape the future. Sessions will cover various topics such as attracting and retaining top talent, up-skilling, HR transformation, professional development, and succession planning.

Keynote Speakers :
Jodie Douglas, VP OF HR - ENDEAVOR AIR, has over 15 years of experience in human aviation resources.
Rebecca Anderson Sr - The Human Resource Director from Northern Tool + Equipment
David Bryant - The lead spark for DHB Change Advisors. LLC
Tina Schuelke - Founder and CEO of Change Management Communications Center LLC
Jenna Conzemius - HR Special Operations Partner
Leo Cardoso - HR Enablement Director - Land O'Lakes
---
Oracle CloudWorld Tour
Oracle CloudWorld Tour is a global event series by Oracle showcasing cloud technology advancements, offering insights on business innovation, and featuring expert speakers on emerging tech like AI and blockchain.
This month, Oracle CloudWorld Tour is taking place in Singapore, Tokyo, London, and Sao Paulo, where attendees can learn about best practices for digital transformation, cloud migration, and how to leverage Oracle's cloud solutions to drive business success.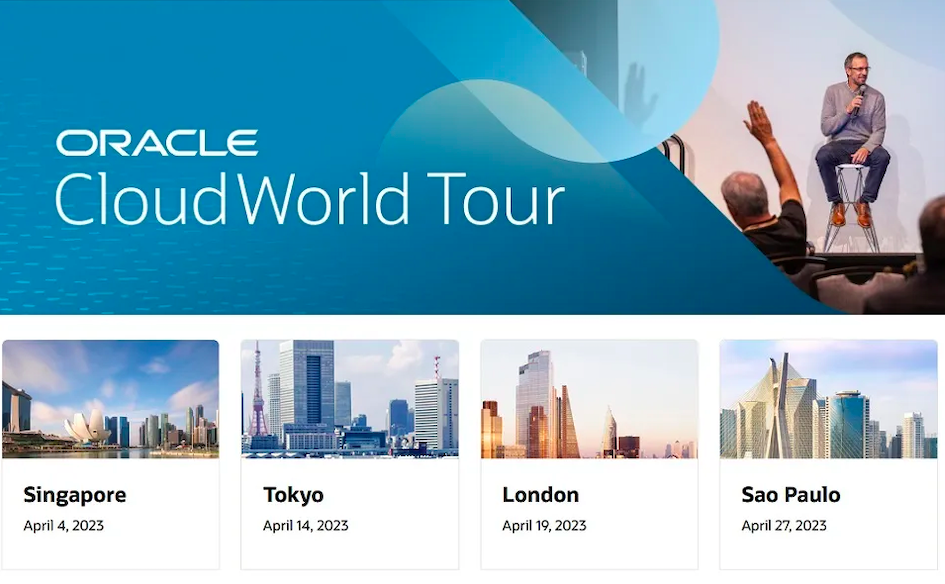 Singapore:
Keynote Speakers :
Edward Screven, Executive Vice President and Chief Corporate Architect, Oracle
Joanne Rodrigues, Group Chief Financial Officer, Affin Bank Berhad
Jerome Joseph, Senior Director, HR Asia and Global Learning and Development, APL Logistics
Onkar Kapoor, Group CIO, Atlantic Gulf & Pacific (AG&P)
Tokyo:
Keynote Speakers :
Mr. Tatsuya Okamura, Toyota Motor Corporation Information System Headquarters IT Transformation CPL
Mr. Koji Minato, President of Itoki Co., Ltd.
Mr. Norihito Yamamoto, Digital Agency Senior Expert (Cloud Computing)
Mr. Noriyuki Takeda, Nomura Research Institute, Ltd.
London:
Keynote Speakers :
Christian Horner OBE, Team Principal and CEO, Oracle Red Bull Racing
Gary Neville, Former Footballer, Pundit, and Entrepreneur
Safra Catz, CEO, Oracle
Juan Loaiza, Executive Vice President, Mission-Critical Database Technologies, Oracle
São Paulo:
Keynote Speakers :
Doug Kehring, Executive Vice President, Corporate Operations, Oracle
Rob Tarkoff, Executive Vice President, CX and Oracle Data Cloud
Greg Pavlik, Senior Vice President, Oracle Cloud Infrastructure, Oracle
Wei Hu, Senior Vice President of Development for High Availability Database and Emerging Technologies, Oracle
---
🤔 Are we missing an important event? let us know here: contact@hrflow.ai
If you want to connect with the HrFlow.ai team during these events and others, get in touch with us here: https://hrflow.ai/book-us/
Read more :